Community Profile

Free Account
Created on 2017-04-11 08:42:54 (#3028539), last updated 2017-09-09 (2 weeks ago)
232,091 comments received
24,360 Journal Entries, 144 Tags, 0 Memories, 1 Icon

About
| | |
| --- | --- |
| Name: | ♪ NEWS ♪ |
| | |
| | |
| Membership: | Open |
| Posting Access: | All Members |
| | |

Mini Bio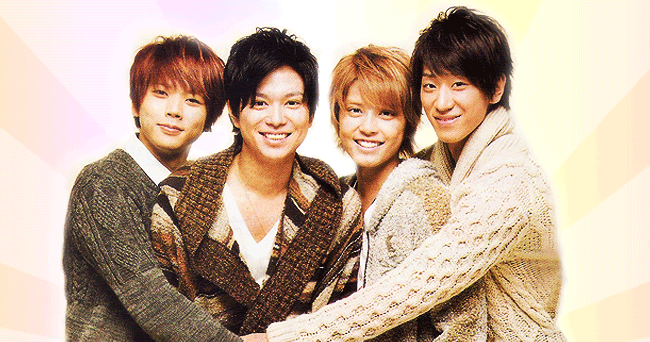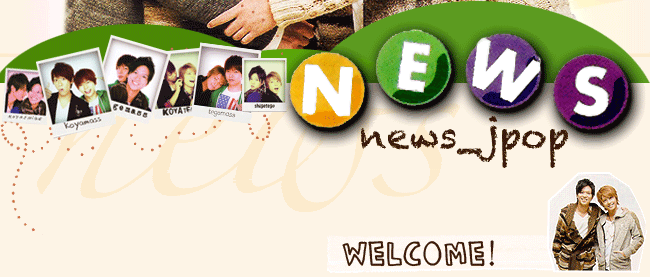 Hi and welcome to NEWS_JPOP! This community is devoted to Johnny's Entertainment's popular group, NEWS. The members are Koyama Keiichiro, Masuda Takahisa, Tegoshi Yuya and Kato Shigeaki. Share your pictures, media, news or just talk about the boys of NEWS by joining the community!




1. This community is for all NEWS fans, so NEWS fans ONLY!

&nbsp2. If you are a new member, THIS POST is a must-read!

3. All entries should only be related to NEWS and its current members.

4. RESPECT your fellow fans - no bashing or flaming. No spamming or causing internet dramas, either. Many of the community members and moderators put a TON of effort towards updates about NEWS and community maintenance in hope of fulfilling every fan's needs. Please give them some respect, as they have for you.

5. Copyrighted media (i.e. MP3s / PVs / perfomances / TV shows) and any posts related to copyrighted media (including, but not limited to, reprint and concert tickets re-sales) must be locked.

6. Absolutely no reposting of media (music/video/scans) without full credit and granted permission.

7. If you are posting sales, please take a look at this post first!

8. Take a look at the community's tags and memories before making any requests, ensuring what you want hasn't already been put up. If it hasn't been put up, please make a request HERE rather than making a new post.

9. Whenever a NEWS member has a birthday, there will be a birthday post made by a mod, so DO NOT make new posts. Regarding past members, they will be included in the weekly posts.

10. When posting graphics, there must be at least 8 icons, 3 banners OR 1 wallpaper related to NEWS.

11. PLEASE tag all posts appropriately. The tags should be self-explanatory, if not, straight-forward. If you don't know which tag to use, please message and ask us.

12. Use the LJ-CUT for any large images for the ease of viewing of everyone.

13. Anonymous commenting is disabled. If you have something to say, don't be a afraid to speak your mind. The mods will be sure to answer your inquiry as soon as possible.

14. If your post is deemed unnecessary/irrelevant, it may be deleted without warning.

15. Most importantly, have fun ♥!



September 2003: Formation of NEWS with 9 members

November 7, 2003: Release of NEWS Nippon single, exclusive to 7-11 stores & used for the 2003 world women's volleyball championship.

December 2003: (ex-member) Moriuchi Takahiro left, making NEWS an 8-member group.

May 12, 2004: Debut single, Kibou ~Yell~, released and reaching #1 on Oricon.
.
July 13, 2005: Suspension of (ex-member) Uchi Hiroki for drinking underage in public.

January 2006: (ex-member) Kusano Hironori faced underage drinking scandal and voluntarily withdrew from NEWS.

March 15, 2006: 6-member NEWS released Sayaendou/Hadashi no CINDERELLA BOY and went on a hiatus.

January 2007: Comeback perfomance at Johnny's Surprise Countdown 2006/2007; return of NEWS as 6 official members; return of (ex-members) Uchi and Kusano as trainees.

January 2008: Uchi Hiroki and Kusano Hironori graduated from their trainee ranks, but did not re-join NEWS. Kusano has since left Johnnys.

Aug 2009: NEWS is main personality for 24hr TV.

October 7 2011: NEWS becomes a four member group with the departure of Yamashita Tomohisa and Nishikido Ryo. Koyama Keiichiro becomes group leader.

December 31, 2011: First appearance as a 4 member group at Johnnys Countdown 2011-2012.

July 18, 2012: First single for 4 member NEWS - Chankapana with B-track Full Swing which was almost the single release but the group chose to go with a more upbeat song.

August 14, 2012: NEWS made an emotional comeback to a packed crowd at Chichibu Rugby Stadium as the start of a national tour.

August, 2012: As part of the Chankapana promotion NEWS held 3 days of fan events for their comeback and they thanked fans individually with a handshake from all the members. These events were featured in the tour DVD release.

September 7, 2013: Following a national tour NEWS held it's 10th Anniversary Concert at Tokyo Dome.

August 16, 2016: NEWS again is main personality for 24hr TV.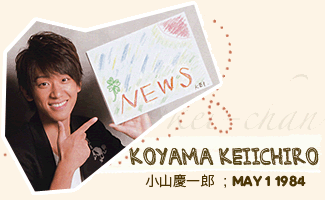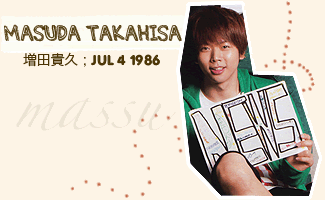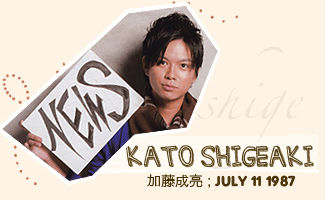 SINGLES
→ 2003.11.07 ‥ NEWS Nippon
→ 2004.05.12 ‥ 希望 ~Yell~
→ 2004.08.11 ‥ 紅く燃ゆる太陽
→ 2005.03.16 ‥ チェリッシュ
→ 2005.07.13 ‥ TEPPEN
→ 2006.03.15 ‥ サヤエンドウ/裸足のシンデレラボーイ

→ 2007.03.21 ‥ 星をめざして
→ 2007.11.04 ‥ weeeek
→ 2008.02.27 ‥ 太陽のナミダ
→ 2008.05.08 ‥ SUMMER TIME
→ 2008.10.01 ‥ Happy Birthday
→ 2009.04.29 ‥ 恋のABO
→ 2010.03.31 ‥ さくらガール
→ 2010.11.03 ‥ Fighting Man

→ 2012.07.18 ‥ チャンカパーナ
→ 2012.12.12 ‥ WORLD QUEST/ポコポンペコーリャ
→ 2014.06.11 ‥ ONE -for the win-
→ 2015.01.07 ‥ KAGUYA
→ 2015.06.24 ‥ チュムチュム
→ 2016.01.20 ‥ ヒカリノシズク / Touch
→ 2016.07.13 ‥ 恋を知らない君へ
→ 2017.02.08 ‥ EMMA


DVD Single
→ 2015.11.25 ‥ 四銃士


ALBUMS
→ 2005.04.27 ‥ touch
→ 2007.11.04 ‥ pacific
→ 2008.11.19 ‥ color
→ 2010.09.15 ‥ LIVE
→ 2012.06.13 ‥ NEWS BEST

→ 2013.07.17 ‥ NEWS
→ 2015.02.25 ‥ White
→ 2016.03.09 ‥ QUARTETTO
→ 2017.03.22 ‥ NEVERLAND


DVDS
→ 2004.04.07 ‥ NEWSニッポン 0304
→ 2005.04.19 ‥ SUMMARY of Johnny's World (with KAT-TUN)

→ 2007.08.08 ‥ Never Ending Wonderful Story
→ 2008.08.13 ‥ NEWS CONCERT TOUR "pacific" 2007-2008 - THE FIRST TOKYO DOME CONCERT
→ 2009.11.04 ‥ NEWS Live Diamond
→ 2010.12.22 ‥ NEWS LIVE!LIVE!LIVE! DOME CONCERT 2010
→ 2014.03.19 ‥ NEWS 10th Anniversary in Tokyo Dome
→ 2016.04.20 ‥ NEWS LIVE TOUR 2015 WHITE
→ 2016.12.14 ‥ NEWS LIVE TOUR 2016 QUARTETTO

BLU-RAY
→ 2014.03.19 ‥ NEWS 10th Anniversary in Tokyo Dome
→ 2016.04.20 ‥ NEWS LIVE TOUR 2015 WHITE
→ 2016.12.14 ‥ NEWS LIVE TOUR 2016 QUARTETTO





⇒ 『 Official Sites 』
⇒ Johnny's Net
⇒ Johnny's Net NEWS page - Japanese
⇒ Johnny's Net NEWS page - English
⇒ Johnny's Entertainment (record label) official site

『 NEWS-related 』
⇒ Wasurenaisa (A NEWS fanfiction community)

『 Affiliates 』
⇒ Koyashigedake
⇒ NinkiNikki
⇒ koyama_daily
⇒ tegomassmatsuri
⇒ _yamapi

『 Creator 』
❝girltype❞

『 layout credit 』
⇒ Coding: ❛silver881❜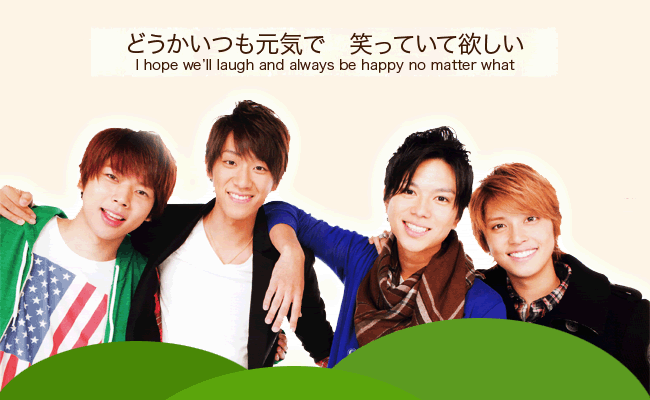 Connect
johnny's
,
johnny's & associates
,
johnny's ent
,
johnny's entertainment
,
johnny's jimusho
, johnny's jpop,
johnny's music
, johnny's pics, johnny's scans, jpop boybands,
kato shigeaki
,
koyama keiichiro
,
kusano hironori
,
masuda takahisa
,
news
,
nishikido ryo
,
tegoshi yuya
,
uchi hiroki
,
yamashita tomohisa
,
内博貴
,
加藤成亮
,
増田貴久
,
小山慶一郎
,
山下智久
,
手越祐也
,
草野博紀
,
錦戸亮
Administrators

Members (14):
addictdesu
,
areumdaunview
,
falkner
,
hihedera
,
kazumicchi
,
lisa_msk
,
marcsi568
,
momokaymac
,
naitorliko
,
rakko
,
roystonbob
,
sexy_peach93
,
sogracefull
,
v6daisuki

Subscribers (13):

Linking
To link to this user, copy this code:
On Dreamwidth:
Elsewhere: